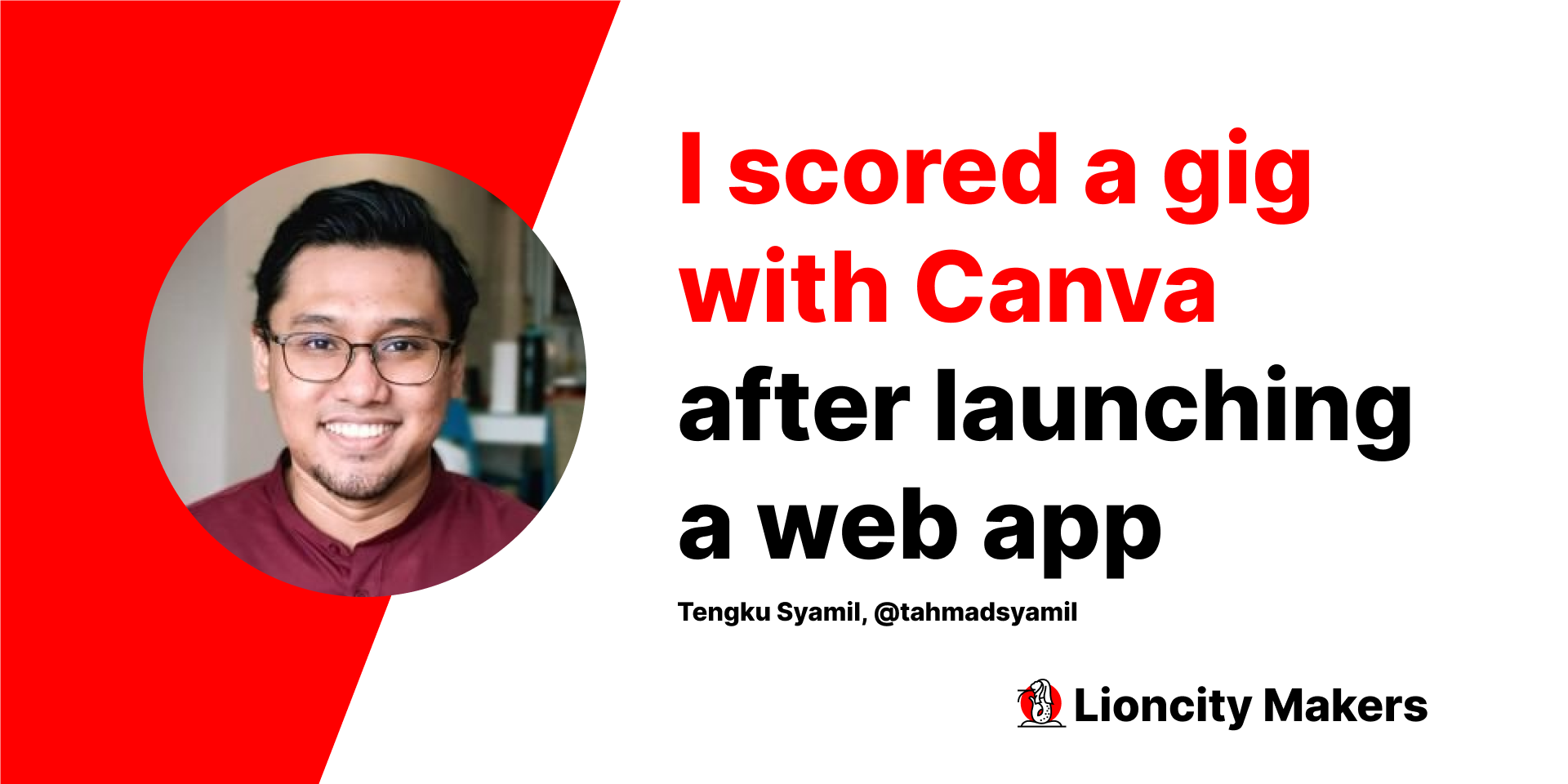 I scored a gig with Canva after launching a web app
Canva engaged me as an external growth specialist for a project they are working on!
My name is Tengku Syamil, and recently Canva engaged me as an external growth specialist for a project they are working on! To be honest, this was never part of the plan. This is not one of those stories where someone "hacked" their way to getting hired. This win happened by chance, made possible because of a tool that I launched recently called CanvaKeywords.Pro.

What or Who is Canva?
Canva is a drag-and-drop graphic design application. They're a unicorn startup from Australia valued at $15 billion as of April 2021. https://www.canva.com/
What is CanvaKeywords.Pro?
In brief, it is a website where I curate high-quality design assets on Canva and their exact search keywords.
https://canvakeywords.pro/

I've been a user of Canva since 2015. My Canva usage increased aggressively last year when I needed to collaborate with people who do not own Adobe apps. One of the things that make Canva great is the built-in design assets library. There are millions of stock images and videos, illustrations, animations, music directly in Canva.
However, there are two pains that I experienced navigating through their ocean of assets:
Long scrolls before finding a decent (and in trend) asset for me to use in my design
Finding multiple assets that belong to the same family or design style (to make my designs look consistent and not messy)
Because of this, I made it a habit to note down the exact search keywords of good assets each time I come across them. This helps me find them again in the future easily. As my list of keywords grew to about 200, it became tedious to look through it to find what I need. It drove me to create a web app using Airtable and Pory.io. That was how CanvaKeywords.Pro came about. I built it in June and launched it in July this year.

How it got Canva's attention. I tweeted about it for the first time at 9pm, 8th July 2021. https://twitter.com/tahmadsyamil/status/1413134632946569232

The following day, when I checked Google Analytics, I noticed I had quite a significant number of traffic from Australia. I also received a message from one of them asking about the legality of what I built. The traffic from Australia remained steady for the next few days. This is peculiar because I don't think I have anyone from Australia in my personal twitter circle.
On 12th July, I received a message on my website at around 3 pm. A guy named Cliff said he liked the website and that I should consider a role at Canva. He left his e-mail in the message. To be honest, I thought it was a prank. Nevertheless, I replied to ask for details. A few minutes later, I received a reply, and it was really from Cliff, one of the founders of Canva. He proposed for a short call to chat more, and I agreed.
The call was joined by two other members of Canva. Things happened really fast after that. The story cut short; I agreed to work on something with them as an external contractor in the call. The rates were decided in the same chat as well. This week, we signed agreements, and the work starts! Not going to lie; it is refreshing and scary at the same time.
Ship your ideas. It is always worth it. Whether your project succeeds or fails is secondary. I firmly believe that when you build and ship your ideas, you win either way. If the project fails, you win experience points.
The process of building and launching is filled with learnings that you can't gain from reading or watching startup vids. No matter how many times you launch, there will always be new things to learn. It builds you up as a person. At times, you get some wins. Sometimes the wins are not what you expect, like my Canva story. I can officially say that I have a $15 billion company as a client. That is something that I have never imagined before.
I am super grateful.
If you have an idea, work on them. No matter how small you think it is (I curate Canva design assets XD), no matter what negative things others have to say about it. If you believe in the idea, give it a shot. It is always worth it.

Article by Tengku Syamil